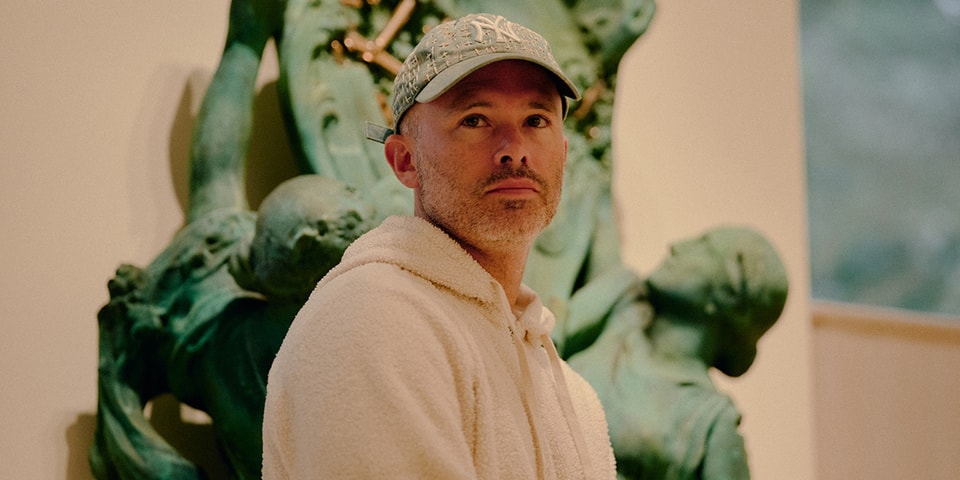 Daniel Arsham on Frieze London, Dior and Collabs
The Regent's Park in London has a new addition. Sitting in the middle of one of the park's vast green spaces – where he appeared on Thursday night, as if fallen from the sky – is the colossal and partially eroded head of a Greek statue, speckled with patinated bronze, and reaching up to easily about 8 feet in height.
This is a new work by Daniel Arsham, who was invited by the Frieze London art fair to contribute a work to its temporary sculpture garden as part of its revamped and post-COVID programming. This is the first time Arsham has participated in an art fair since Miami Basel in 2019, due to endless closures and restrictions from global lockdowns. Still, he's ambivalent at best about his return.
"As a spectator, yes, I am a fan of art fairs. But not as an artist, "he says. "I never really felt like part of the art world. And I still don't, really. I just don't feel comfortable in this environment. It may be too closed, in one respect.
"[Dior] was a lot of work. I don't really know how I could go beyond that.
To that end, Arsham complements Frieze's work with another unveiling: a piece of public art for the Whiteley, a new commercial and residential space in a former shopping center in West London. The work, entitled Been eroded, is based on an original 1911 sculpture of the facade of the building, made for the first time by the French artist Paul Gasq. Arsham's version is a 3D scanned facsimile of the original, but fragmented, weathered and crystallized, in keeping with its aesthetic.
Unlike the Regent's Park piece, Whiteley's work will eventually become part of the architecture of the building upon completion of the site in 2023, where it will remain in place permanently for anyone to visit. It will remain visible at the entrance to the Whiteley until then. "I think people are just going to run into it," Arsham says. "Which is kind of a nice way to look at art."
This is a question of some importance to Arsham, who increasingly believes in finding ways to present his work to a wider sphere than the island bubble of the traditional art market. Over the course of his career, he has looked for ways to give his work the widest possible visibility, from showcasing his work in department stores to his role as Creative Director for the Cleveland Cavaliers. "I've always done things that transcend disciplines and I work with people in places that aren't necessarily places of art," he says. "Not only does it engage some ideas that you might not have found otherwise, but it also engages new audiences." Plus, he adds, "It's so boring talking to the same group over and over again. It's boring for them, and it's boring for me too.
Daniel Arsham, 'Eroded Summer', 2021, at the Whiteley Building.
But isn't this egalitarian and democratic approach in contradiction with the content work itself? Arsham has collaborated, after all, with people like Porsches, KITH and Dior Men – symbols, surely, of unbridled aspiration and luxury?
He balks at the idea. "Yes, there are those," he says, "but I've also worked with radios, old phones, and pay phones. Besides, he says, objects are not chosen by him for their value, but for their role as signifiers. "It's really a connection with a moment in time," he says. "So with a basketball, for example. You could say that it dates back to the last 100 years. It wasn't 300 years ago. So by using it, he situates the work in time.
Yet Arsham's membership in commercial brands – and his drive to create salable products with them – is, he says, one of the reasons he's been so often rejected by the mainstream art world. "I think the idea around trade versus the practice of an artist is completely frowned upon," he says.
"For example, when I did the first project with adidas, there were a few people – my advisors or my collectors – who said, 'Why would you allow this company to use your work to market and sell shoes? And I was like, "Can't you see I'm using them?" Not only for the resources they gave me to produce work, but also for the reach they have? "
"It's so boring talking to the same group over and over again. It's boring for them, and it's boring for me too.
It's only in recent years, according to Arsham, that his practice has been taken seriously. Admittedly, it has become impossible to dismiss him: alongside his extremely popular collaboration with Dior, his works of art are still selling for more at sales and auctions. And while an increasing number of artists seek to collaborate with other cultural currents, his approach seems more and more avant-garde.
Don't expect another Dior-scale release, at least not anytime soon. While Arsham admits he has more fashion projects to come, he's in no rush to pick up something of this magnitude. "It was a year and a half effort," he says. "It was a lot of fun, but a lot of work. I don't really know how I could go beyond that.
Besides, he adds, as the rest of the art market is catching up, he's ready to move on. "The idea of ​​collaborative practice is a bit oversaturated now. I'm more interested in engaging with creatives in a more experiential way and not just going out. It doesn't always have to end with a product.
To do this, he explores new territories. His first NFT project came out in May of this year and will likely be followed by several more. "I thought if I could create something in digital space that was impossible in physical space, then there was an opportunity there," he says.
Along with this, during the lockdown and unable to access his sculpture materials, Arsham found himself drawn to painting. "I hadn't shown any paintings since 2012," he says. "But now I'm fully in it. He is also considering turning to the cinema. "Theatrical storytelling is something I've explored, in a compressed way," he says. "There are a few things I thought about in relation to this."
The accompanying challenge – to once again challenge skepticism in a new area – is far from dissuasive. "The artistic audience is here now. It's an easy audience, "he says. "The other audience is the most difficult. And that's the fun.