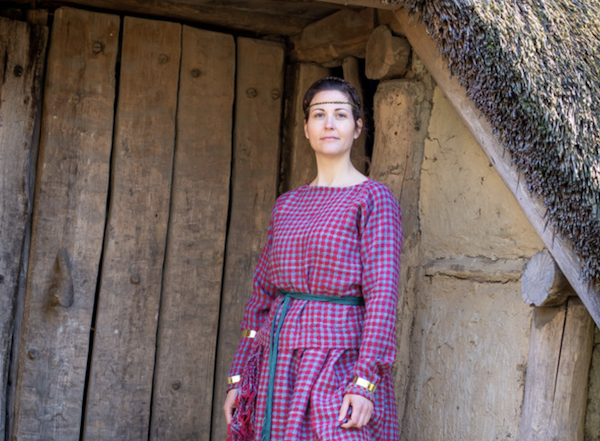 The prehistoric colored "Chanel dress" is presented
[ad_1]
The recreation of a dress worn in the Netherlands almost 3,000 years ago has been exhibited in Oss and shows that, contrary to popular opinion, the woman of that time loved cheerful colors.
Further investigation of the remains of the robe, which date to 800 BC and were found in a prehistoric cemetery near Uden in 2011, shows that the original garment was an intense red and blue.
The find was special in more than one way, archaeologist Richard Jansen told the current affairs program Nieuwsuur. "We would have expected the remains to be cremated, but what we found was the imprint of a skeleton, most likely a woman." Besides the cloth, archaeologists found three bronze bracelets, as well as a nail cleaning utensil and a pair of tweezers.
"She was definitely a woman of high rank," said archaeologist Sasja van der Vaart. "We've never seen this combination of artifacts before."
The remains of textiles make the find very special as they rarely survive in the ground. "The reason we have them now is because the pieces were wrapped around the bracelets. The bronze rusts and it preserved the sheet. What's exciting is that we can see the pattern of the fabric, in red and blue. The threads were woven in a check, a pattern that is very familiar to us, "said Van der Vaart.
The dress was reconstructed by Yvonne Lammers, who runs the Eindhoven Prehistoric Village Museum. "We know a lot about the Iron Age man. They were farmers with fields and animals and they were completely self-sufficient. We know that they used wool and linen and could spin and weave. But this is no ordinary dress. You should think of it as a Chanel dress, that's all the work it took to make it.
Lammers said it was nice to see a change in the generally lackluster image of prehistoric people. "A lot of people think they were wearing brown shirts stirring brown stuff in brown pots. Now we can show them that there were people who cared about their appearance even then.
The dress and other artifacts can be seen through January 16 at the Jan Cunen Museum in Oss.
Thank you for donating to DutchNews.nl
The DutchNews.nl team would like to thank all the generous readers who have donated in recent weeks. Your financial support has helped us expand our coverage of the coronavirus crisis evenings and weekends and keep you up to date with the latest developments.
DutchNews.nl has been free for 14 years, but without the financial support of our readers we would not be able to provide you with fair and accurate news and features on everything Dutch. Your contributions make this possible.
If you haven't made a donation yet, but want to do so,
you can do this via Ideal, credit card or Paypal.
[ad_2]